Pro Bono Services
When our production schedule allows for it, Charlotte's Web Studios, L.L.C. takes on pro bono projects at reduced or no cost for select non-profit organizations.
For additional information, or if your organization would like to be considered for our pro bono or reduced billing work, please complete & submit our pro bono request form.
Our Current Pro Bono Project: DC Affordable Law Firm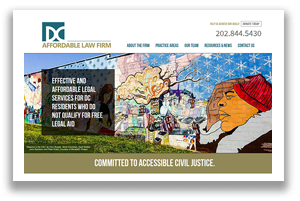 The DC Affordable Law Firm ("DCALF") was created in 2015 as a 501(c)(3) tax-exempt charitable entity by Georgetown University Law Center and two major law firms, DLA Piper and Arent Fox. Its mission is to serve D.C. residents who have been largely ignored: Those with modest incomes who do not qualify for free legal aid and cannot afford the rates lawyers normally charge. Conservative estimates suggest that well over 100,000 people in the District fall within this category.  This helps explain why over 90% of those who appear in the District's Landord/Tenant and Family Courts appear without counsel.