Institute for Higher Education Policy
Washington, DC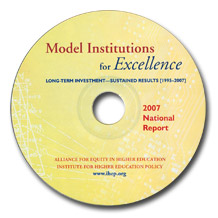 CD design, cd development, cd printing, and cd replication.
Interactive cd design / development.
Our cd designers & developers designed, developed and produced an animated and interactive cd rom and replicated the final cd design project for the Institute for Higher Education Policy (IHEP) in Washington, DC.
The cd rom opens with a short animation and leads to an interactive menu where users may select and view pdf documents, or to view an animated presentation. The cd rom also links to the IHEP website.
The final cd rom was offset printed in four color and inserted into a four color, 4 panel cardboard wallet.

Back to Our CD/DVD Design Portfolio