The Career Coach
Baltimore, MD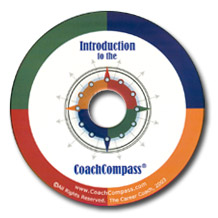 Interactive, quiz-based assessment cd design / development resource project.
CD design, development, printing and replication.
Our cd designers & developers created and produced an interactive quiz-type assessment cd rom, and cd cover design for The Career Coach, located in Baltimore Maryland (MD).
The cd rom opens with a short animation and leads to an interactive quiz where users enter information and, upon completion, an overall score and assessment is automatically calculated. The final assessment may also be exported to a Microsoft Excel spreadsheet.
CWS not only designed the interactive graphical user interface, but also the printed cd cover artwork. The final cd rom was offset printed in four color.

Back to Our CD/DVD Design Portfolio