Case Studies: "Ego Alley" & an Annapolis Law Firm
---
The Challenge
A law firm client approached CWS to redesign their website—to rebrand the law firm's image, modernize the overall look and feel of the website, and help to revamp the content.
The CWS Solution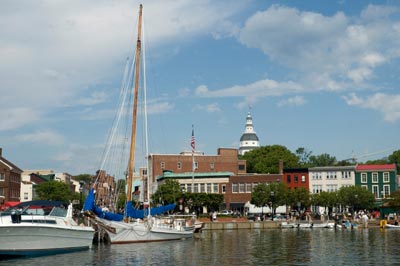 Charlotte's Web Studios worked closely with the law firm on this project to update and modernize their corporate image and website. A large part of the web redesign involved the selection of photos to use throughout the site and as part of the overall look. Our client had it's main office in Annapolis, Maryland and we decided that to help differentiate the firm's image and to attract more local clients, the site's imagery should focus on geographically based images representing the Annapolis Maryland area.
One type of geographic-based image selection involves images of buildings or scenes that generally represent a location—the state capital building, for example, or well-known buildings located in a particular city or area (for example, the Space Needle in Seattle), or even a city skyline. These types of images all represent a geographic location and often have special meaning to audiences that are geographically based.
In the case of our Annapolis law firm client, we considered using geographic-based images depicting the Maryland State Capital building, but after going through the CWS WordStrings™ process for the project, decided that a better representation would be to fine tune our initial WordString and include other local, historic buildings, the water, boats, and the Annapolis City Dock, also known as "Ego Alley"—a narrow, dead end waterway where the area 'movers and shakers' show off by parading their boats. Ego Alley is a rather famous part of Annapolis, a city often referred to as the sailing capital of the world. At Ego Alley, adventurous boaters come through at somewhat excessive speeds to 'strut' and show off both their expensive boats and their boating abilities. When approaching the dead end, they often come about as a last maneuver, giving on lookers some concern that they might snag a protruding bow sprit. Ego Alley is a place to see and be seen in Annapolis.
The final image we selected to use on the law firm's website appears above. As you can see, it is a good representation of the city of Annapolis, the state of Maryland, and the area in general and includes the Capital building in the background, other historical buildings, the water, the City Dock (Ego Alley), as well as sailboats and power boats.